Go to Google and search for "restaurant".
Chances are that a number of the results are local to you.
This is the result that I get: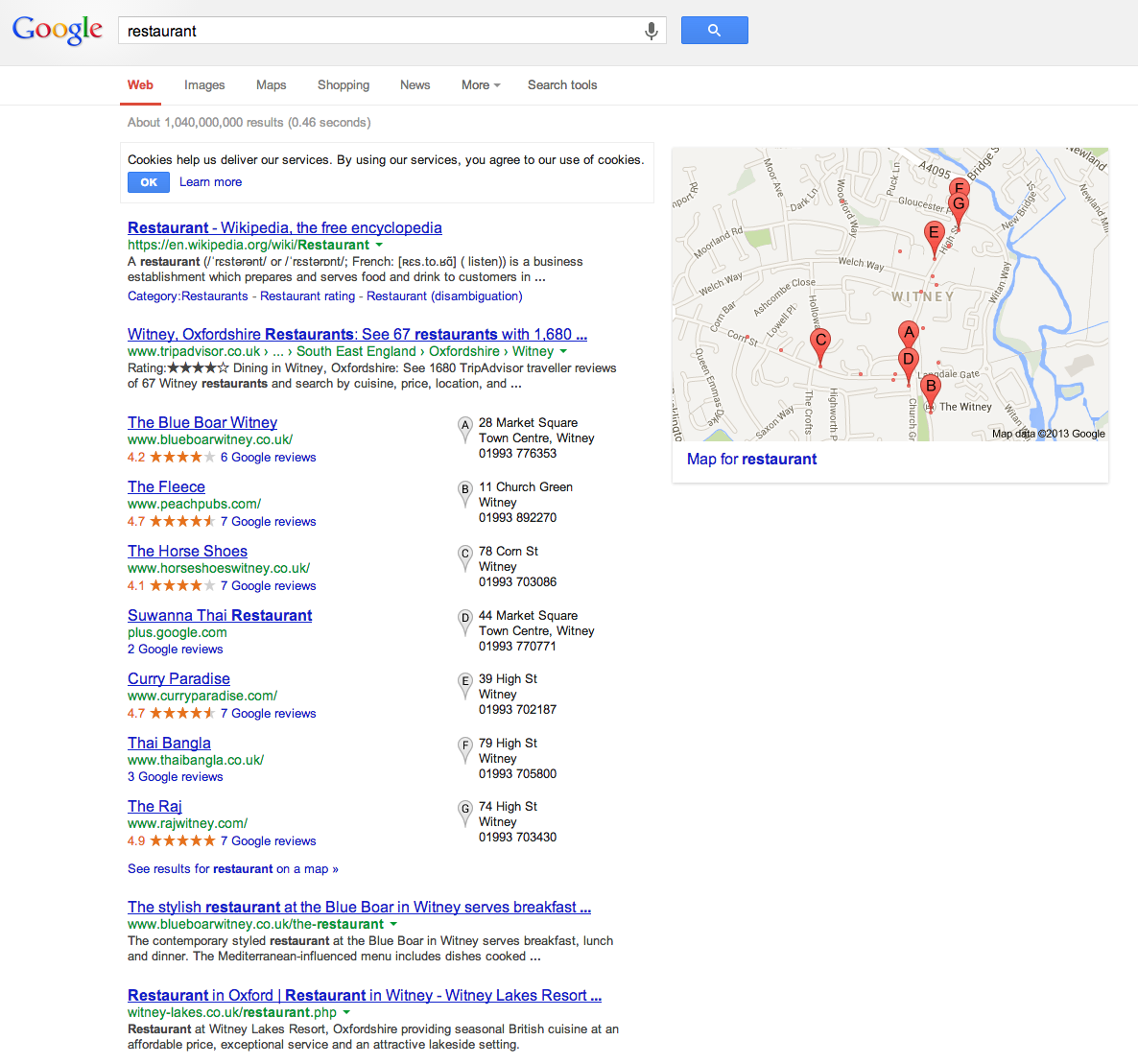 The third organic result is for blueboarwitney.co.uk.
How can that be?
I searched for "restaurant" – not "restaurant Witney".
This is as a result of implicit search.
In the past, search engines have typically worked like this:
The user searches for a keyword – for example "restaurant Witney".
The search engine then returns a set of results based on what was searched for.
There are now two things that happen in search.
Explicit search and implicit search.
The old way was explicit.
The search engine user would explicitly state what they were looking for.
Implicit is the stuff that the user does not consciously provide.
It can be their location.
The device they are on.
Their search history.
All of the things that Google knows about the searcher that the searcher has not explicitly provided.
The combination of explicit and implicit search is starting to fundamentally change the way we use search engines (and in particular, Google).
Back to the example search above.
I am sitting in an office in Witney, Oxfordshire.
I carried out an explicit search for the keyword "restaurant" on Google.
To have a local restaurant rank number three for such a broad term was previously unheard of.
But when we consider implicit search, the term "restaurant" no longer just means what it explicitly says.
Google has used my implicit search details to show me results that it thinks I want to see.
Despite making no conscious effort to provide this information, Google knows where I am.
That is implicit search and it means that the keyword is no longer at the centre of the search.
It means that a local restaurant can appear in a vastly elevated position for an ultra competitive search term.
It means that measuring rankings is a wild goose chase (more than it was already).
I might be seeing one restaurant, you may be seeing something completely different.
The result of this is that the keyword research model of SEO is going to have to adapt.
Planning and analysis is going to have to rely more heavily on the data gleaned from analytical tools.
Implicit search is also going to bring online results more in-line with offline domination.
If a brand has 100 physical shops across the country and another has only one, the large brand is potentially 100 times more likely to be in the localised search results thanks to implicit search – regardless of who has the better website.
Implicit search means that it is not all about what you say but more about who you are.
*NB*
This post was inspired by this video from Will Critchlow and Tom Anthony at Distilled: